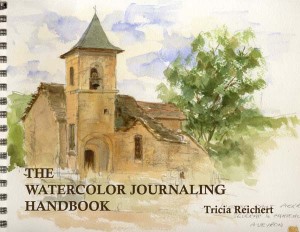 The Watercolor Journaling Handbook – a take along helpful guide for painting the world around you.
This comprehensive book is a take-along manual to teach you how to paint the world around you in watercolor. Inside you will find information and examples of how to compose, draw and paint many of the subjects that you are likely to encounter on your travels, or at home, including trees, flowers, buildings, reflections and people. Understanding color mixing and some valuable watercolor techniques are also included.
If you would like to purchase a copy of The Watercolor Journaling Handbook, you can click on the "Buy Now" Button below and it will take you to a Paypal Account page, where you can pay by Credit Card or Paypal.
The price of the book is $29.99.  Shipping of US$3.99 will be added for US purchasers. If you are overseas, please contact me to find out the shipping costs to your country. California residents will also be charged CA sales tax.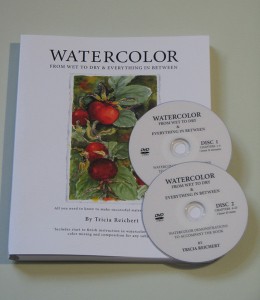 Watercolor – From Wet to Dry and Everything In Between –  a painting manual for all things watercolor including three hours of instructional video on two DVD discs.
This very comprehensive 170 page watercolor painting manual, also comes complete with two DVD's containing three hours of actual video examples of many of the techniques explained in the book. In this manual, Tricia Reichert teaches you how to: Choose and use the materials and techniques for painting in watercolor. Improve your drawing skills to make painting in watercolor easier. Understand color mixing and use harmonious color combinations. Plan and compose your paintings. Loosen up your painting with brush drawings. Paint in opaque watercolor – Gouache. Add ink and other water-based media to your watercolor paintings. You'll also find valuable practical help with more than 20 easy to follow, step-by-step watercolor paintings. You will learn how to paint landscapes, trees, flowers, still life subjects, birds and animals, step-by-step, with full color mixing instructions for each painting.
FIRST EDITION NOW SOLD OUT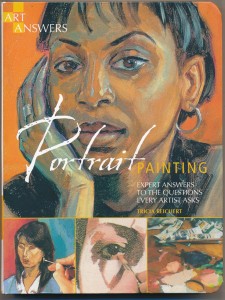 Portrait Painting, Expert Answers to Questions Every Artist Asks (Art Answers Series) published by Barrons – The format of this book includes 200 questions and answers about painting portraits in oil, acrylic, pastel, watercolor, gouache and drawing and sketching.  Also included are chapters on proportions and likeness, light and shadow, backgrounds and composition, skin tones and color mixing, facial features and hair, clothing and hats and exploring different styles.

If you would like to purchase the Portrait Painting book, click here to link to Amazon.