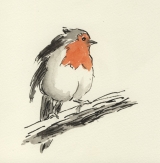 On drawing and sketching……………..
Drawing and sketching is fundamental to all my work. It is a means to an end and also an end in itself. Quick sketching can capture the life and energy of any subject and is often all that is needed to express that idea.
By drawing a subject in different ways I am able to explore proportions, tone and compositional opportunities. Adding color to the drawing further expands these possibilities.
My Art journey started seriously with life drawing and watercolor studies and I have continued to practice my skills by drawing, and later on also sculpting, the figure from life.
Watercolor is also part of my drawing and sketching toolbox. In journaling I can add watercolor to a simple pencil sketch for a fast study of anything that has appeal. A little color in a Sumi ink drawing adds immediate interest and ink line combined with a watercolor sketch can be used to add detail or definition.